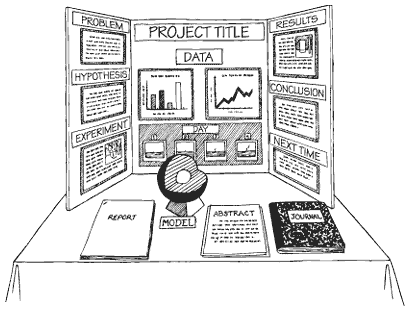 This year, 'Shroom and Lolli will be participating in their school's annual science fair competition for the first time. Last week, we picked up their display boards and we're combing through some websites to find project ideas.
I thought I would post a few links here in case some of you are in the midst of doing your kids--er, helping your kids--with their science projects. =)
1)
Super Science Fair Support Center
- this is a great all-inclusive site that calls itself "the ultimate science fair resource"; you can purchase project downloads or complete kits; it has over 1,000 science project ideas
2) Fun Science Gallery - this site is great if you're interested in building your own scientific equipment (telescopes, batteries, microscopes)
3) All Science Fair Projects - this site is helpful as you can choose if you want to search among the 500 ideas, browse by topic (elementary, middle or high school projects), or jump to a link

4) Science Fair Project Ideas - this site provides ideas based on your child's grade level and also lets you choose topic categories to help whittle down your options

5) Science Buddies - this site was recommended by the kids' school; it has project ideas, separate teacher, parent and student support resources, and even an "Ask An Expert" section

Anyway, there are tons of resources out there and I'm sure your local school district has online resources as well. In the meantime, I'm beginning to realize that science fair projects are very much a family event. Air Boss and I are going to try our best to be as hands-off as possible (while still being available to help and guide) but helping the kids select a topic and introducing the scientific method to them is already a whole lot of involvement! The process and end result will be something interesting to see . . .
Lolli and 'Shroom with their school mascot